Though we've lived within an hour of Mount Airy, North Carolina, for the last five years, we've rarely found time to make our way over to the beloved mountain town. For those who haven't heard of Mt Airy, actor Andy Griffith was born there, and it was the inspiration for the fictional town of Mayberry on The Andy Griffith Show and Mayberry RFD. Some 60 years later, backwoods "Mayberry NC" (which has grown to 10,000+ residents) has become the cosmopolitan hub of Surry County NC. But you don't have to be a huge fan of The Andy Griffith Show to enjoy the diverse array of Mount Airy attractions. Historic Downtown Mount Airy offers plenty of late 1800s/early 1900s architecture, great antique stores, and restaurants for every appetite, from sushi to pork chop sandwiches. There's locally made wine, the actual Floyd's Barber Shop, and a cool collection of al fresco art scattered about town. Once we got into the retro nostalgia spirit of the town, even the Andy Griffith obsession in Mt Airy turned out to be much more entertaining than we expected.
Read on for our in-depth guide to the best things to do in Mount Airy NC, from Mayberry-related tours and attractions to our favorite restaurants, shops, and nearby hiking trails.
Things to Do in Mount Airy NC (a.k.a. Mayberry North Carolina)
Ride with Mayberry Squad Car Tours
Tour Mount Airy Wineries
Sample Mount Airy Restaurants
Hike Pilot Mountain
Do the Downtown Mount Airy Art Walk
Shop for Treaures at the Mount Airy Antique Mall
Check out the Local Music Scene at the Earle Theater 
Explore the Mt Airy Museum of Regional History
Go Goofy for Mt Airy Granite
Celebrate at Mount Airy Festivals
1. Ride with Mayberry Squad Car Tours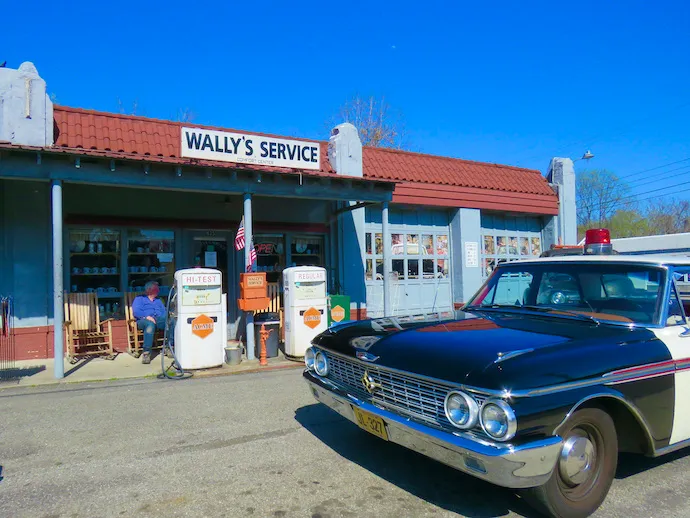 (Photo: Wally's Fillin' Station)
Neither my wife Emma (who is British) or I grew up with The Andy Griffith Show. We feared there wouldn't be other things to do in Mt Airy NC, or that we might find ourselves yawning through the city's star attractions.
Luckily, we were wrong on both accounts. Andy Griffith has undoubtedly left an enduring mark on the town of Mount Airy, both culturally and economically. There are all sorts of Andy-themed attractions on the south end of Main Street. Opie's Candy Store is on the same side of the street as Snappy Lunch, Floyd's City Barber, and Miss Angel's Heavenly Pies. Across the street you'll find the Mayberry Antique Mall, Mayberry Market & Souvenirs, and Mayberry Trading Post. They're all around the corner from The Andy Griffith Museum, which is right next to The Andy Griffith Playhouse. On our first afternoon in Mount Airy, we explored all of these places. Then we headed to Wally's Service Station, where we caught a ride in a vintage police car as part of the endearing Mayberry Squad Car Tours. We finished our Andy Griffith afternoon by visiting a replica of Mayberry Jailhouse, including Andy's desk.
So is there a Mayberry, North Carolina? Not really. But, for a couple of blocks on the north end of Main Street, it's easy to embrace the idea, step back in time, and enjoy a bath of warm nostalgia.
2. Tour Mount Airy Wineries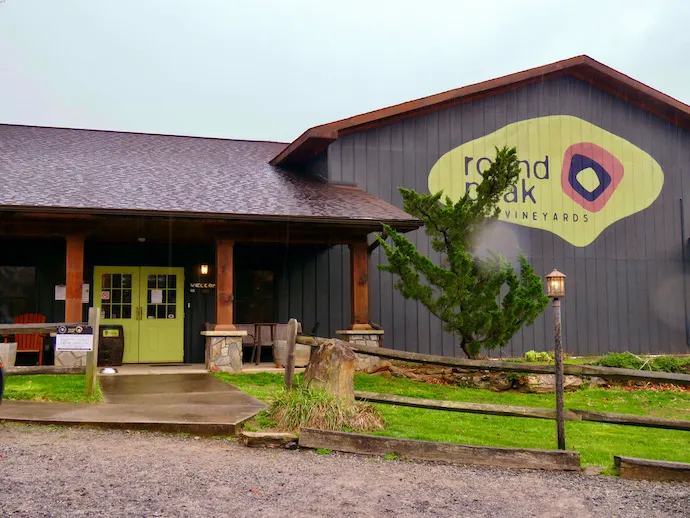 (Photo: Round Peak Vineyards in Mt Airy)
As residents of Elkin NC area, we've been to a few Yadkin Valley wineries in the past. But we've never been to any of the Mount Airy Wineries, such as Round Peak Vineyards or Old North State Winery. Round Peak is a few miles outside of town, just south of the Virginia border, with a fantastic view of the Blue Ridge Mountains of North Carolina. The wine is playful, the vibe is relaxed, and it's a great place to spend an afternoon. Old North State Winery is located in an old hardware store building in Downtown Mt Airy, with a fantastic restaurant attached to it. Their grapes come from around the Yadkin Valley, and it's all made in the basement. But that's just the tip of the iceberg for Mount Airy wineries and tasting rooms to explore. There's a cool collection of mom-and-pop-style vineyards (including Pilot Mountain Vineyards), as well as commercial outfits like Shelton Vineyards. Combined with the surrounding counties, there are over 40 vineyards in the Yadkin Valley, and 20 of the Yadkin Valley wineries are located in Surry County.
3. Sample Mount Airy NC Restaurants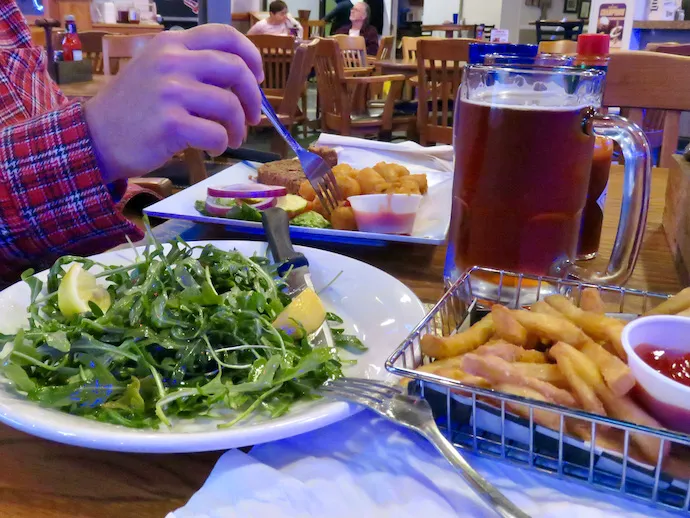 (Photo: Dinner at The Loaded Goat in Mt Airy)
There are lots of independent, local places to eat in Mt Airy NC, and the restaurants' menus run the gamut. Snappy Lunch is famous for once being mentioned on The Andy Griffith Show, and for its pork chop sandwich. Miss Angel's Heaven Pies is serious about both savory and sweet pastries. The Loaded Goat gastropub does burgers and beer better than anyone else in town. On our first night, we had dinner at Old North State Winery and were blown away by both the wines and food. A quick snack at Kazoku Sushi & Bar had the feel of being at one of the most happening spots in town. On the Saturday afternoon we visited, it was packed to the gills and well worth the wait. Our Mount Airy accommodation, Heart & Soul Bed & Breakfast, blew our socks off with their 2-course morning meals. For our last meal in town, we stopped at the Mill Creek General Store. It has a deli counter with a laundry list of fresh sandwiches, salads, and wraps. It's a great stop just to explore the shop, but the food is excellent, too. There were still many more Mount Airy NC restaurants to try, so we plan to go back soon, even if only just to eat!
4. Hike Pilot Mountain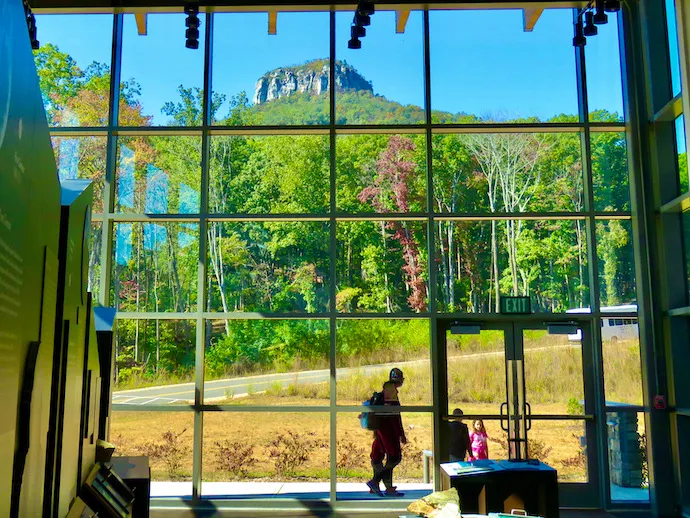 (Photo: Pilot Mountain near Mt Airy)
Pilot Mountain is a natural landmark that has been celebrated for centuries, long before colonialism. It was made famous by The Andy Griffith Show, where it was known as "Mount Pilot." Part of the Sauratown Mountain range (which are isolated from the Blue Ridge Mountains), Pilot Mountain stands out in the NC Piedmont and is located along the Mountains-to-Sea trail. Known to the Saura people as "The Great Guide," it was first used as a navigational device by Native Americans, and later by European settlers. Pilot Mountain State Park offers several great hiking trails, including different routes to the summit as well as along Pilot Creek and the Yadkin River. In all, there are some 14 miles of Pilot Mountain hiking trails to explore There's also Pilot Mountain camping, a beautiful visitors center, and expansive picnic grounds at the drive-up summit area. We did a lovely lollipop loop hike to the top of Pilot Mountain, circling around Pilot Knob and passing by loads of rock climbers who were scaling the rock face.
5. Do the Downtown Mount Airy NC Art Walk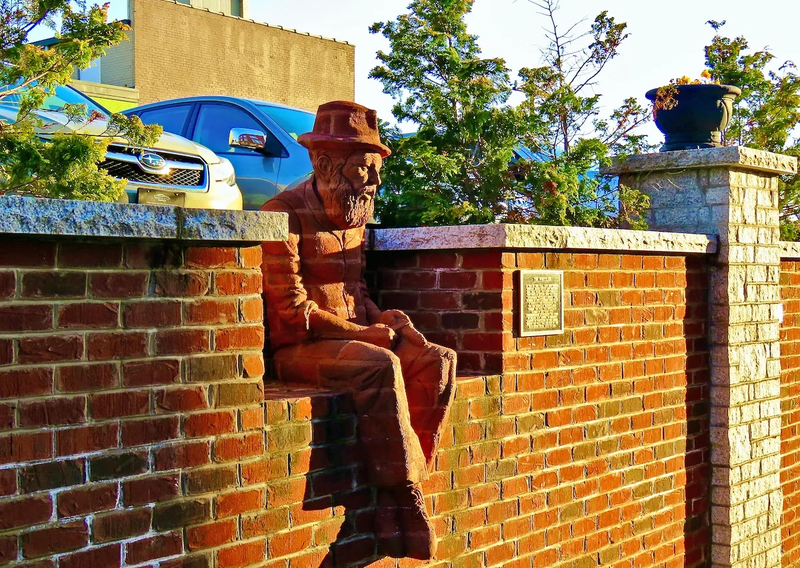 (Photo: Whittling Wall, part of the Downtown Mount Airy NC Art Walk)
We discovered the Downtown Mount Airy NC Art Walk by accident. As we pulled in to visit the Andy Griffith Museum, we saw a couple of nice street art murals that caught our eye. As we walked around town, we kept noticing more murals and other little artistic features here and there, such as painted musical instruments along the sidewalks. On our Mayberry Squad Car Tour, the driver took us to a remarkable mural of Andy Griffith, and we were sold. Emma couldn't get it out of her head, and we decided we'd walk back and take another look. At our Mt Airy bed and breakfast, we were flipping through brochures and discovered there was an established art walk. We decided to do the rest of the walk before dinner that night, and I discovered my favorite, The Whittling Wall. It's an impressive collection of amazing brick sculptures of important characters and stories from Mount Airy history. 
6. Shop for Treasures at Mount Airy Antique Mall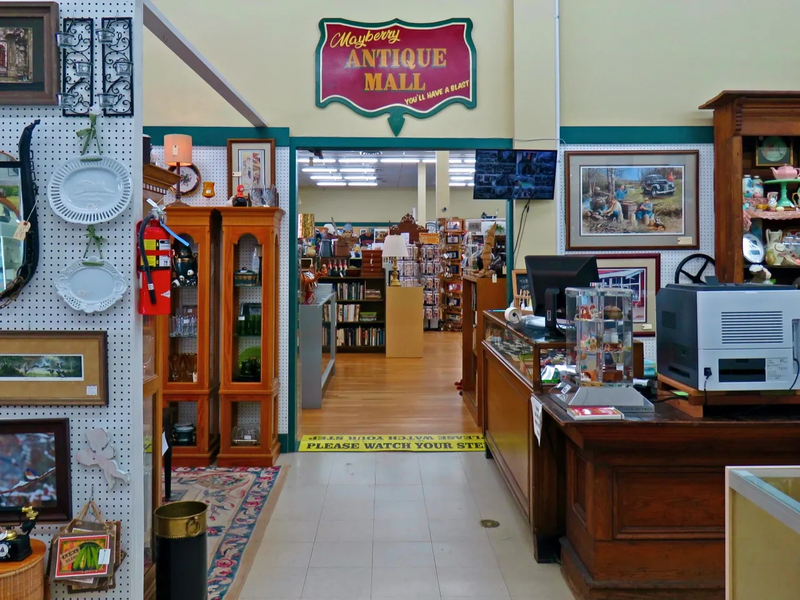 (Photo: Mayberry Antique Mall in Mount Airy NC)
As with any great town in Western North Carolina, antiques and local crafts feature prominently as part of the Downtown Mt Airy shopping experience. There's a huge, central Mayberry Antique Mall on Main Street, not to mention a few others that have caught overflow vendors. These shops are full of market stalls, some of which are tasteful displays of well-thought-out treasures, while others offer piles of oddities that may or may not have value. Whatever the approach, it's fun to explore the different personalities each stall represents. As perpetual thrift store enthusiasts, we love a good root around old stuff. We're cast iron addicts, love old kitchen implements, and have a soft spot for hardwood. We wiled away a good hour or two browsing the Mount Airy antique mall's offerings.
7. Check out the Local Music Scene at the Earle Theater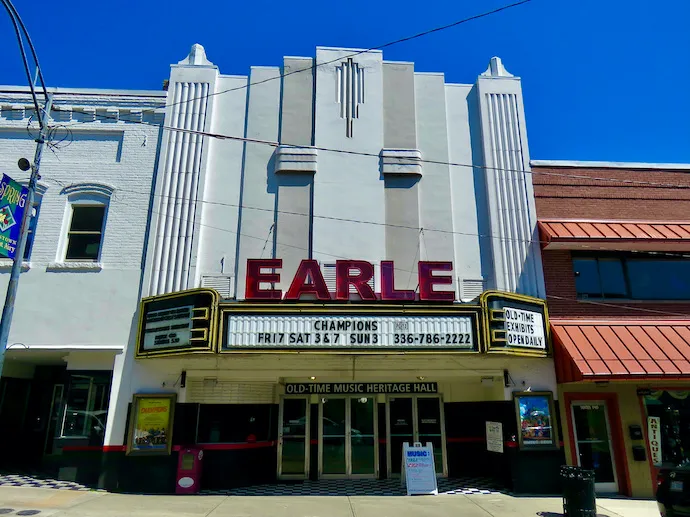 (Photo: The Earle Theater)
One of our dear friends, Buck Buckner, is an old-time musician of several decades. He had mentioned several times that we needed to visit the Historic Earle Theater in Mount Airy. Unbeknownst to us, the Earle Theater in Mt Airy NC was the hub for regional radio for decades. It's still kicking, and we went for the free Saturday morning broadcast concert, exchanging texts with Buck's daughter to let him know we finally made it. The Earle specializes in regional music, especially (but not limited to) old-time, bluegrass, and country. We got a country band for our live show. This historic facility has kept its 1930s style intact, and welcomes visitors to stop in for a look. It's worth taking a minute to see it while strolling around downtown Mt Airy.
8. Explore the Mount Airy Museum of Regional History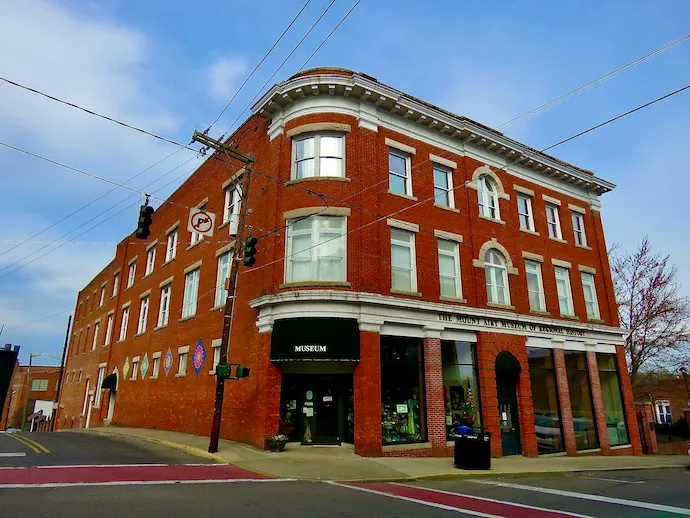 (Photo: Mt Airy Museum of Regional History)
Not to be confused with the Mt Airy Visitor Center, the Mount Airy Museum of Regional History is a mishmash of local history, dating from Native Americans through to 1970s country-pop icon Donna Fargo. This is the one Mount Airy attraction we had visited before. Emma's father was a major history buff, so we took him there when he visited from England. But on our second visit we found that the place has expanded over the past few years. For us, the highlights of the museum included the log cabin display, the permanent music exhibition, moonshine distillery-related stuff, and the collection of old fire engines in the basement. The museum is located a historic building that's noteworthy as well. We were tickled to learn that the Heart and Soul B&B, where we were staying, had once been the home of William E. Merritt, the local businessman who owned the museum building as well. He operated a hardware store there, and they've left his office intact as a historic museum display.
9. Go Goofy for Mt Airy Granite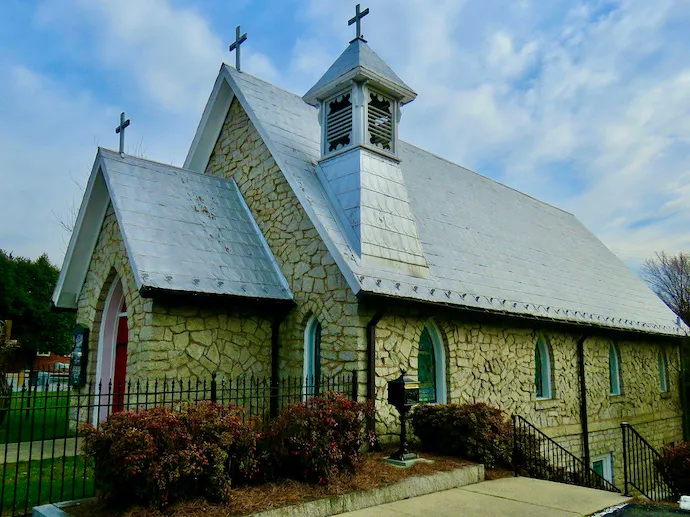 (Photo: Mt Airy Granite for a Mt Airy Church)
Though it isn't as highly publicized as the "Mayberry town" nickname, Mount Airy is also known as Granite City. Not only does the area have the largest North Carolina granite quarry, but it is also the largest open-faced granite mine in the world. The mine has been in operation since the late 1800s, and it's so large it can be seen from space. In fact, Mt Airy's North Carolina Granite Corporation Quarry Complex (which includes encompasses 22 contributing buildings, 1 contributing site, and 8 contributing structures) has been named a US National Historic District! There are several old churches around town that were built from Mt Airy granite. But once the valuable stone makes it on your radar, you start to notice and appreciate the flourishes of it that pop up everywhere. Stones from the historic mine were used to construct the Fort Knox Bullion Depository, the Wright Brothers Monument at Kitty Hawk, the WWII Memorial in Washington DC, and the Centennial Olympic Plaza in Atlanta.
10. Make It to Mount Airy Festivals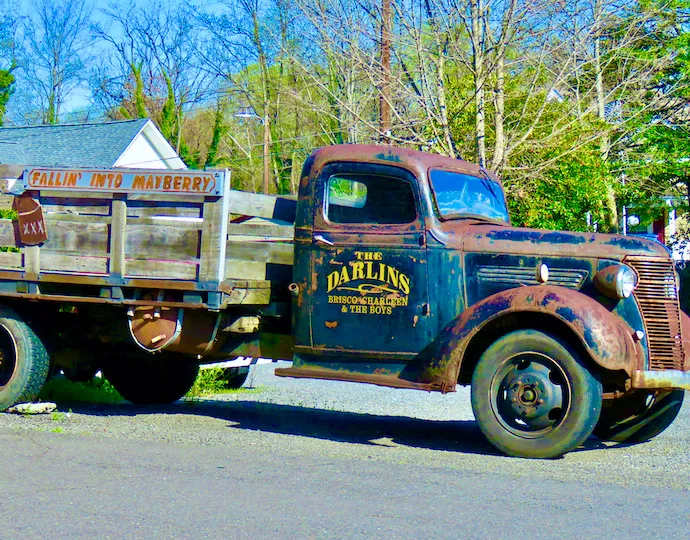 (Photo: Cool Cars in Mount Airy)
Mount Airy hosts a fleet of festivals throughout the year, and some of them draw massive crowds and create quite the local buzz. Mayberry Days in Mount Airy, North Carolina is the must-do event for Andy Griffith fans. It's a September festival filled with Griffith memorabilia, as well as music, family activities, and heaps of nostalgia. The Surry County Sonker Festival is celebrated on the first Saturday of October, with music and dancing (The Sonker Trail offers a chance to sample the local cobbler-like dessert at other times of year). Other annual events in Mt Airy NC include the Autumn Leaves Festival in October, the Downtown Christmas Parade in November, the Budbreak Wine & Craft Beer Festival in May, and the Mayberry Farm Fest in May. The Mayberry Cool Cars & Rods Cruise-In is held on the third Sunday of every month from May to September. And the Mayberry Food Truck festival happens twice a year, in spring and fall, when the weather is ideal for enjoying the outdoors. –by Jonathon Engels; photos by Emma Gallagher